Can You Airplay To Mac/Windows In Windowed Mode Instead Of Full Screen?
I ran into a problem recently when I wanted to airplay a video from my iPhone to my MacBook 16 inch.
Related Product: Use a USB C to Lightning cable (click to view on Amazon) or USB A to Lightning for a smoother connection.
The problem wasn't that I couldn't airplay, airplay worked flawlessly.
But the content from my iPhone filled up my whole display, and made my second display turn black.
Unfortunately, this is the way Apple has decided that you should use Airplay to Mac.
After researching, and finding other people with this problem, I found out about Reflector 4. I am not affiliated with Airsquirrels and will not gain anything from linking to them.
Reflector 4 improves Airplay to Mac a lot, because it not only lets you airplay in full screen, but also windowed. You can move that window around, and put it on a second monitor if you would like.
When you've installed Reflector on Windows or Mac, you can use the native mirror feature in iOS/iPad OS to mirror the screen to your computer.
From there, you can resize, move around, hide or always keep the window on top.
The downside is that the app costs $19.99 and that gives you only one license on either Mac or Windows. A universal license is $21.99, but you can only use it on one device.
Here is a 20% off coupon code for you though: STAY20 (again, not affiliated with them, just sharing)
There is a 7 day trial so you can make sure it works the way you want it, and I recommend doing that before buying. I was instantly pleased with how well it worked, so it was an instant purchase for me.
You could even take it one step further if you have an iPad that supports sidecar, or use Duet Display. If you mirror your iPhone to the Mac, while using sidecar as a second monitor, you can view your iPhone screen on the iPad.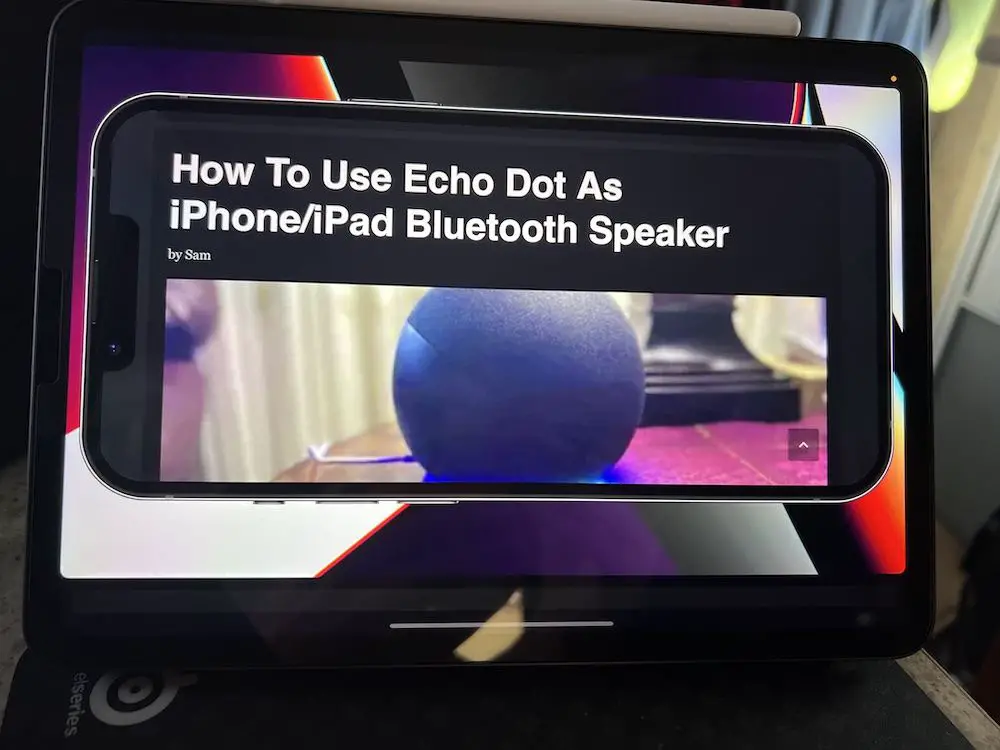 Since airplay doesn't work iPhone to iPad, that's a workaround (an expensive one at that since it requires a newer Mac).
Reflector has more features, but I haven't used too many of them since I only wanted it for this one feature.
Have other ways to deal with airplay issues? Please let me know by leaving a comment down below.