Choosing The Right Apple Watch Size With Skinny Wrists
I recently picked up the new Apple Watch Series 8 as my very first smartwatch.
So far, I have been very happy with my purchase and after using it for a few weeks, I can't seem to get through my day without it. The option to take calls, answer texts and everything else you can do truly makes me more hands free than I already am.
Although I was excited to get my watch, choosing the size was a bit of a problem for me because I am sadly blessed with rather skinny wrists, making many watches look too big on my arm.
Related: The only Apple Watch accessory you'll ever need: Spigen S350 (Click to view on Amazon). It's so simple, but I love mine and the fact that it supports Night Stand.
This article will go into what I based my decision on as well as some advice for others looking to buy the watch.
What Apple Watch Size Should I Get If I Have Skinny Wrists?
There are two sizes to choose from for the Apple Watch – Series 8. There are the 41mm and the 45mm, this is the size of the Watch case.
The 41mm is generally advised if you have a wrist size between 130-200mm (5.1-7.9 inches). The 45mm is generally advised if you have a wrist size of 140-220mm (5.5-8.7 inches).
These are recommendations from Apple but you are of course free to pick whatever size you are most comfortable with.
Get a measurement band and measure your wrist to get a little bit of an understanding of how far up or down you are in the size range advised by Apple.
Things To Consider When Choosing Apple Watch Size
Why Should I Buy the 44/45mm Size?
You may not see much difference when comparing the two watch sizes.
However, after testing both sizes in the store, I realized that the actual size of the display and the usability felt quite different because of the display size difference.
The Apple Watch Series 8 comes with a screen that extends to the very edge of the corners, meaning that it's not only the size of the actual watch but also shows in display size.
For me, I like to use my watch to see my notifications, switch soundtracks, take calls and read texts, etc.
After doing this for a few weeks, I do personally feel that going down in size would bother me since it's already a fairly small display, compared to when doing the same things on my iPhone.
This is what ultimately made me choose the 44mm size, and so far, I am very happy with my choice.
I'm Afraid the 44/45mm Is Going to Look Too Big on My Small Wrist
I had this mindset at first, however, after using it for some time now, I don't think it looks too big.
One thing I have noticed is that, if you have your watch high on your arm, it may look a bit big but moving it closer to the start of your hand removes that impression.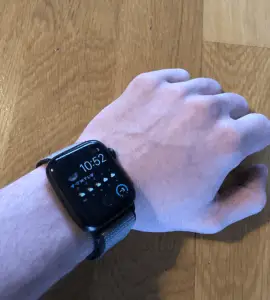 My wrist measures about 165mm (6.5 inches)
Some may feel more comfortable in the 40mm size, which is fine.
Although I talked earlier about display and usability, both sizes are completely fine to use and it's more of a preference for me to have a larger display.
What band should I use?
In my case, I have found that bands that are too wide could also make your wrist look more skinny. I have been using a slightly narrow band for the last couple of weeks and I believe it fits perfectly.
I really like the Solo Loop style, but I buy third-party bands like these from Waspo (click to view on Amazon).
Conclusion
It can be tough choosing the correct size but it is definitely something you should be sure to take into consideration since it's a rather pricy investment for a watch.
I am happy about my choice to go with the 44/45mm size.
The thing that decided it for me was the display size and if that's something that is important to you, I highly recommend the larger size.
If you have any questions regarding the Apple Watch or need more help to choose your size, leave me a comment below and I'll be glad to help you out.