How To Wirelessly Connect An Amazon Echo/Echo Dot And Use It As A Bluetooth Speaker With iPhone/iPad
If you recently purchased an Amazon Echo Dot 5th gen (click to view on Amazon), do what I mostly use my Echo Dot for – to play my tunes via Bluetooth on my iPhone and iPad.
Related Product: Combine your Dot with the Capetronix light bulbs to control your lights with your voice (click to view on Amazon)
The fact is, that it's very easy to connect an Echo or Echo Dot to your phone, tablet, or even a laptop. In this post, I am going to show you how it's done with an iPhone and iPad.
Without further ado, let's look at how you can connect your device to the Echo. As always, if you're having issues or questions, leave a comment and I'll help you.
If you have an iPhone/iPad
Open the settings app, and navigate to the Bluetooth settings. You can also use Siri and say "Open bluetooth settings".
Make sure Bluetooth is turned on.
When near your Echo Dot, say "Alexa, pair". This is going to put the Echo Dot in pairing mode. Alexa is going to say: "Searching".
Your Echo Dot is going to show up under "Other devices", click on it to connect.
The Echo Dot will make a sound and let you know it has paired to your device.
You're now paired and can start playing your music!
If you open the control center (swipe down from the top-right corner of your screen), you're going to see that you're wirelessly connected to a device. Click on the streaming icon in the media control square to quickly switch between the iPhone/iPad speaker and the Echo Dot.
If your phone has automatically disconnected from the Echo, you can tell Alexa to "connect to my phone", to quickly reconnect.
To remove the connection between your iPhone/iPad and the Echo Dot, go back to the Bluetooth settings and click on the i-icon next to the Echo in the list. From there you can either Disconnect or "Forget This Device".
The difference between the two is that you're going to have to redo the pairing process if you choose to "Forget This Device".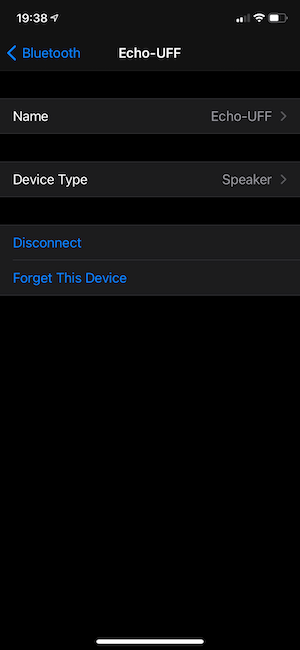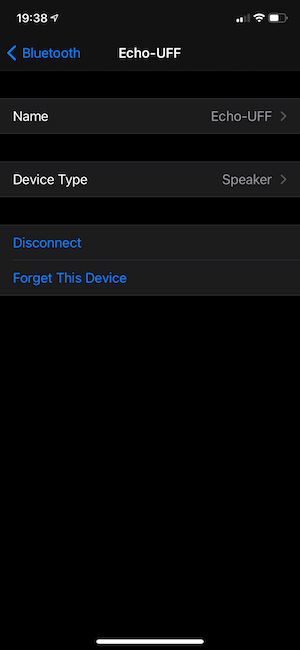 By disconnecting, your device is going to remember the speaker and allow you to quickly connect to the speaker again.
Frequently Asked Questions
I have a different Echo Dot, does it work the same way?
Most likely yes, just make sure you tell Alexa what you want to do so she knows!
Does it work with every music and video app?
Since your device will recognize it as a Bluetooth speaker, it will work and play any sounds your phone makes no matter the app.
What is the Bluetooth range?
It depends on a lot of circumstances, but you can expect it to at least work up to 10m (33ft).
Can you make the Amazon Echo Dot 4 a portable speaker?
If you buy a portable battery for it, like the GGMM D4 battery base (click to view on Amazon), you can transform the Echo Dot into a truly wireless speaker and take it outside or to the beach.
Please leave a comment down below if you have any questions.