Do PopSockets Wallets & Grips Work with MagSafe?
MagSafe for iPhones has recently shown up in the past few generations Apple has released.
The first release was on the iPhone 12's and they have kept adding it to every iPhone since. That includes the iPhone 12 Mini and all iPhone 13s.
Related Product: PopSockets Magsafe iPhone Case with Sliding PopSocket (click to view on Amazon)
Since it's still fairly new MagSafe hasn't gotten the street cred it deserves yet, but iPhone users are starting to release how amazing this new technology really is.
To quickly describe it, MagSafe is basically a circle of magnets on the back of certain models of iPhones.
It's mostly to aid with quick charging but it's extremely useful for attaching accessories to iPhones and even mounting them magnetically pretty much anywhere.
Related Post: Quarble MagSafe Wall Mount Review (iPhone 13 Pro Max & Pro)
PopSockets are a very well known smartphone accessory that took the world by storm in 2015.
Originally they were made as a way to wrap and store headphones on the back of your phone. But as smartphones grew in size people found Popsockets to be useful for getting a better grip and even using the sockets as simple phone stands.
To use a PopSocket you usually have to either get a case with the socket built in or stick it to the back of a case or directly to a smartphone using adhesive.
That's always been the downside to PopSockets for me, but with the release of MagSafe for iPhones, all of that has changed.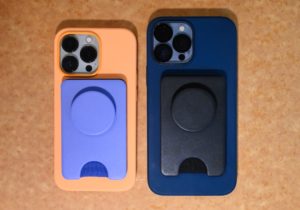 Yes, PopSockets has created a Magsafe PopSocket and wallet that works with Magsafe.
You don't have to use any adhesives, it's super fast and easy to remove and put back on your iPhone, it finally works with silicone phone cases, and the magnetic bond is strong and secure.
Both my wife and I have iPhone 13s with Magsafe (the iPhone 13 Pro & Pro Max).
These new iPhones are big and heavy, so it was a no brainer to get some MagSafe PopSockets to help us out.
Below is my review of the PopSockets PopWallet+ for Magsafe iPhones.
Side Note: With any Magsafe accessory you must use a Magsafe compatible phone case or no phone case. Using non-MagSafe phone cases puts an extra layer of material between the magnets which will weaken the bond. The accessories may still work, but they won't work as well as if you use a MagSafe case.
PopSockets PopWallet+ for MagSafe Review
Specs
Since it's made to hold a few credit cards the PopSockets MagSafe Wallet is slightly thicker than its counterpart the PopSockets PopGrip for Magsafe (click to view on Amazon).
The wallet/MagSafe base is 2 1/4 inches wide, 3 1/2 inches long, and 7/16 of an inch thick when the PopGrip is folded in. (7/16 is just slightly smaller than 1/2)
The PopGrip shoots out about 3/4 of an inch.
Compared to the non-wallet version linked to above it's only 1/8 of an inch thicker. Basically, the thickness of the PopGrip when it's folded in.
All of the Magsafe PopSockets are surprisingly thin when you think about the fact that they have magnets inside of them to create a strong bond with the iPhone Magsafe.
Features
The PopSockets PopWallet for Magsafe iPhones is more than just your average PopGrip with some adhesive on the base.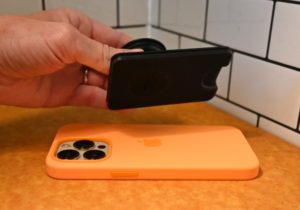 Inside the base of the PopWallet are built in magnets that are designed to work with MagSafe magnets. MagSafe doesn't stick well to metal like regular magnets, it only works with other magnets that are arranged in a compatible pattern.
Attached to the magnetic base is the wallet part that's a layer of elastic fabric and then another layer of durable plastic.
To use the wallet part you simply slide your cards into the opening on the top and it holds them securely.
When you need a card there's a U shaped gap on the bottom of the wallet with elastic fabric on it. Just push up and the cards will pop up enough to pull them out.
It's made to hold up to 3 cards. If you use your credit cards a lot I recommend just having 2 inside the wallet because it's a pretty tight fit with 3. But it will hold 3 very securely.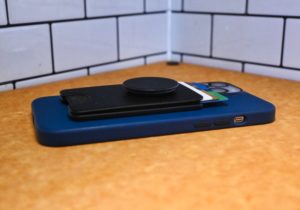 We all know magnets and credit cards don't mix. To keep the MagSafe wallet from ruining the strip on your cards there's a protective barrier between the magnets and the wallet part.
The PopGrip is then attached to the outside of the wallet.
Like most newer PopSockets the grip also known as the PopTop is detachable.
That means you can swap it out with other colors and patterned PopTops for a more customized look (click to view some cool options on Amazon).
On top of being a wallet and a helpful grip, the PopSocket Wallet for MagSafe is also an extremely useful iPhone stand. It's actually the main reason I got this accessory.
The new iPhones and especially the iPhone 13s have amazing displays on them. Watching videos and shows has never been better on an iPhone and being able to just open the PopGrip and lean my phone against it in the perfect position is super useful.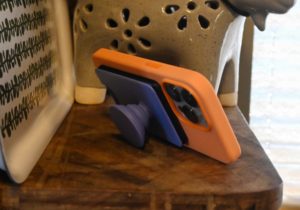 There are two stand angles you can use depending on how much you open the PopGrip. When fully open it's a surprisingly stable stand that feels safe to use.
My PopSocket MagSafe Wallet User Review
I've been using it for about a month now, and I honestly only have good things to say.
The stand feature is by far my favorite thing about PopSockets and I use it almost constantly. Instead of just putting my iPhone down on the screen or camera lenses I just use the PopGrip to hold it up so it's sitting on its side.
That way there's no risk of scratching the screen or camera lenses and it's easier to see which means I'm not as likely to accidentally put something on it when I'm not paying attention.
The magnetic hold is also very strong. PopSockets doesn't recommend only holding your iPhone by the grip part, which is sound advice, but it's not because of the MagSafe feature not being strong enough. It's because the grip is removable and there's always a slight risk of it falling off.
It's strong enough to hold my iPhone 13 Max Pro, which is the biggest iPhone. It also holds and fits great on the iPhone 13 Pro that's smaller but still pretty heavy.
Because of the magnet, you can take the PopSocket wallet off of your iPhone whenever you want. I use a MagSafe wall mount next to my bed to hold my phone, so I remove the PopSocket every night and reattach it in the morning.
So far the connection is staying strong and it's just so incredibly easy to take it on and off. But it's not so easy that you have to worry about it falling off on its own.
The card holder works really well. I usually keep at least one card in it at all times and even with just one card I've never had any issues with one falling out or even slightly slipping out.
Because the iPhone 12s and 13s are pretty big and heavy the grip feature is almost a must have. I don't want to risk dropping my phone and having the extra security really makes me feel better about using my phone outside and taking photos with one hand.
One very slight problem that is only with the iPhone 12 and 13 Pros is if you have the PopGrip fully open and you turn on the wide angle lens on the camera you will see the grip on the edge of the photo.
It's a super small and very specific issue that only happens with that camera. The way to fix it is to pop the grip in one more step and then it doesn't show up on the camera.
This isn't an issue with the iPhone 12 or 13 Pro Max because they're larger.
I'd also like to see way more color and design options with the MagSafe PopSocket wallets. The standard ones have a lot of different styles to choose from but the wallets only have a few pattern and color choices right now.
The good news is you can change the PopGrip, and there are lots of pattern and color options with those.
Overall, I'd say any PopSockets Magsafe accessory is going to be an excellent addition to iPhone 13s and 12s.
The PopSockets PopWallet+ for Magsafe (click to view on Amazon) is my top choice because I like being able to leave my wallet at home but still have a way to safely bring some cards or my ID along with me.
But the simple Magsafe PopGrips (click to view on Amazon) are excellent as well since they use the exact same technology. If you think the extra thickness of the MagSafe PopSockets wallet will annoy you then getting the standard version is the way to go.
Pros & Cons
Pros
Easy to Remove
Strong Magnetic Bond
Phone Stand
Wallet
Helps You Hold iPhone Better
Interchangeable PopGrip
Quality Parts
Works with Silicone MagSafe Cases
Cons
Limited Color & Pattern Options
Thick MagSafe Base
Must Remove for Wireless Charging (can leave on for cable charging)
Must Use with Magsafe Case (true for any MagSafe accessory)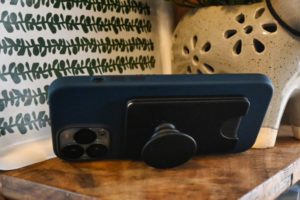 Frequently Asked Questions About the PopSockets Wallet For Magsafe
Is it safe to charge with the MagSafe PopSocket Wallet attached to my iPhone?
You must remove the Popsocket in order to charge your iPhone wirelessly.
But if you charge via lightning cable it's safe to leave the PopSocket on.
Will a PopSocket wallet hold cash?
Unfortunately because of the slim, minimalist design of the PopSocket wallets, they don't hold cash very well.
You could possibly put a bill in between two cards and slide them into the wallet. But if the cash were to slip it won't be easy to get it out of the case.
How do you remove a MagSafe PopSocket?
To remove a MagSafe PopSocket simply pull it off of your phone.
The magnetic bond is strong enough to keep the PopSocket securely connected but it's not so strong that you won't be able to pull it off with a little force.
Can you put credit cards in a MagSafe PopWallet?
Yes, you can put credit cards in MagSafe PopWallets.
Even though magnets can damage the magnetic strip on credit cards the PopSocket wallet for MagSafe has a protective layer that shields your card.
Never put your credit card against the magnet side of any Magsafe accessory.
Do cards fall out of PopWallets?
The only opening in a PopWallet is on the top, and the chances of your cards falling out of that are slim. The PopWallets use elastic fabric to hold 1 to 3 cards securely.
In fact, it holds them so well you have to utilize the gap on the bottom that's there to help you push the cards out of the wallet so you can use them.
Have any more questions about the PopSockets Wallet for Magsafe on iPhone 13s and 12s? Leave a comment below.