SteelSeries Arctis 7 2019 – Disconnection Problems
I picked the SteelSeries Arctis 7 2019 Edition (click to view on Amazon) up about two years ago now and I've been very happy with it.
The sound is impressive, especially thanks to the SteelSeries Engine 3 that allows you to manipulate quite a few sound settings for different occasions.
Related Product: I have gone over to the SteelSeries Arctis 7P+ (click to view on Amazon) and have had no disconnection problems
The previous headset I owned was the SteelSeries Wireless H and I had been using that headset for over 4 years. Sadly, I had accidentally dropped it one too many times, and it was time to get a new one.
Even more sadly, it's rather wiped out from the market as there have been many new releases since then. If you can find it, I definitely recommend this one as well, especially since it held up for such a long time.
I lean towards wireless products with anything, especially sound since it's nice to escape the cables.
However, when I purchased this Arctic 7, I began having problems with the headset disconnecting now and then and tried to fix it.
My problem was not constant, the disconnection problem would occur maybe once or twice per day.
This article will present a few things that could mess with the connection for this headset, and what ultimately solved my problem.
---
Trouble-Shooting And How I Solved It
---
Potential USB-External Issues
I use my MSI Laptop for everyday use. As it is a powerful laptop, I use a laptop fan underneath it to keep it cool while I'm gaming.
The external laptop fan gives you access to two additional USB ports. Now, I had earlier had a problem where my external hard drive wouldn't connect to my laptop when using the laptop fan USB port.
I figured this might be the same case for my headset and the wireless station. Well, I went another day until the headset disconnected once again.
Although this didn't solve my problem, you could try this first if you're in the same situation as extra external USB-ports could have a malfunction.
Wireless Station Placement
This is something to think about although it should not be a problem technically.
Be sure that your receiver is within reach so that there can be a proper connection. However, if it seems as if this is the problem and you are less than 40 feet away, contact the seller, as this may be a faulty device. (or, a faulty microwave, ping)
SteelSeries Engine 3 Not Recognizing Device
This was something that I solved right away, but if you're not used to SteelSeries products, this could be frustrating.
SteelSeries has a software called SteelSeries Engine 3 that allows you to connect your devices to your computer. This gives you more customization options for your devices.
For example, I can change the lights and key bindings on my keyboard. For my headset, I can change stereotype settings, enhance bass and more, as well as creating profiles for different situations.
Well, when I first connected my headset to my computer, the SteelSeries Engine would not recognize a new device in the software. I tried to re-connecting many times by resetting the wireless station, but it would not connect.
I ended up re-installing SteelSeries Engine 3 not one but two times and then reconnected once again and it finally worked!
Resetting The Firmware Inside The Headset
 (Before doing this step, be careful when handling your electrical device. DoneWithWires is not responsible for damage caused by unsafe use, I am simply documenting what worked for me personally. If you are ever unsure, contact SteelSeries or the seller.)
This was my last try to solve this problem, and so far, it seems to have solved it.
In order to reset your firmware, follow these steps.
Start by removing the padding from the left ear, you will see the speaker itself along with some holes. This small hole I marked with the

red circle

around it has a tiny button inside that is used to reset the firmware.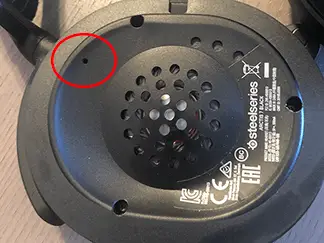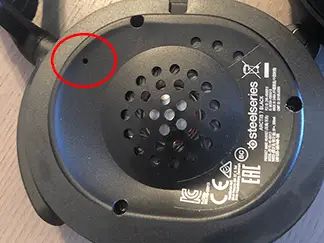 Let the headset stay turned on and use a needle or something similar to gently press down the button inside the hole. You don't have to press hard and you should feel the button being pushed. Keep the button pushed down for 20 seconds and your headset should automatically turn off.
You can turn on your headset again. Now, set your wireless station to re-connect your headset (you do this by pushing the button on its side for 6 seconds).
Problems connecting headset after resetting firmware?
Be sure to go into your PC settings and configure it to be set as your default playback device. Also, you can try to reconnect it again by first using the cable at the same time.
If the wireless station doesn't find your headset, try turning off your headset and then starting it and keeping the start-button turned on for 10 seconds.
I did not notice that I had accidentally turned the volume wheel on my headset in the process and it was turned to the lowest, hence why I could not hear a sound when I tried it.
So make sure you adjust those wheels after messing around as well. (Yes, I laughed at myself after trying to fix this for over 10 minutes)
---
Conclusion
Hopefully, one of these things can help you solve your problems with the wireless connection.
As always, you can reach out to SteelSeries or the seller if you are ever unsure.
Faulty devices can be shipped out and if there is a genuine problem not caused by the user, you should be able to receive a replacement if it is within warranty.
If you have any further questions regarding this problem, be sure to send me a comment down below and I'll be glad to help if I can!